Whether you have a solo, small or mid-sized practice, The Bar Plan will tailor comprehensive Lawyers' Professional Liability Insurance to meet the specific needs of your firm. If you have a full-time position outside the private practice of law, our part-time policy will have you covered.
The Coverage You Need, A Carrier
You Can Count On
Since our founding in 1985, The Bar Plan has earned a dominant share of the Missouri market for lawyer's malpractice insurance for solo and small firms. Our rates are based on actuarial experience, not market opportunity, and our products and services are developed solely for the benefit of our legal communities.

We have a lasting commitment to supporting our legal communities through sponsorships, membership and active involvement in bar leadership. Our years of experience have led us to be the only legal malpractice carrier endorsed by The Missouri Bar. We utilize experienced local defense counsel to defend your claim. All of our claim counsel are attorneys, and most of our Board of Directors are experienced attorneys. We help lawyers build a better practice because we directly understand their needs.

To apply for coverage, click the application button below. Applications completed outside of the portal should be emailed to TBPUnderwriting@thebarplan.com or faxed to the Underwriting Department at 314-821-0534.

Refer to your policy form and endorsements for coverage details.
Applications by state
For attorneys engaged in the practice of law full-time
For attorneys engaged in the part-time practice of law

FIRST DOLLAR DEFENSE
With first dollar defense, you pay a deductible ONLY if there is a payment for Damages. The company pays your defense costs not to exceed the limits of liability.

WATCH VIDEO
VOLUNTARY RESOLUTION REFUND
Waives 50% of your deductible to a maximum of $12,500 if the claim is voluntarily resolved within 12 months of the date of report. If the claim is resolved within 24 months, 25% of your deductible, to a maximum of $6,250, is waived.

WATCH VIDEO
TITLE AGENT COVERAGE
Coverage is provided for attorneys who perform title agent services through their firm. Coverage is not available when acting as a title agent for a separate entity.
PERSONAL INJURY COVERAGE
Provides coverage for certain negligent acts while performing legal services. Includes false arrest, humiliation, detention or imprisonment, invasions of private occupancy, libel, slander and violations of an individual's right of privacy.
COVERAGE FOR FDCPA DAMAGES
Covered damages include awards arising under 15 U.S.C. Section 1692k(a) (the FDCPA).
WATCH VIDEO
EXTENDED REPORTING COVERAGE
Allows an insured to extend the period during which a claim can be reported after the policy expiration date. Qualification is subject to underwriting guidelines and coverage only applies to acts or omissions prior to policy expiration.
WATCH VIDEO
DISCIPLINARY PROCEEDING COVERAGE
Disciplinary Matters that do not result in a Disciplinary Proceeding will be subject to a $2,500 limit of liability. If a Disciplinary Proceeding occurs, the limit of liability for that matter is $10,000. There is an aggregate limit of $20,000.
SUBPOENA ASSISTANCE
Pays attorney's fees for counsel to assist insured attorneys in responding to a subpoena. This coverage is in addition to policy limits and is not subject to a deductible. Certain restrictions apply.
CONSENT TO SETTLE CLAUSE
This clause gives the Policyholder the ultimate ­decision regarding settlement of a claim.
WATCH VIDEO
COVERAGE FOLLOWS THE ATTORNEY
Insured attorneys are covered for all their Legal Services unless a specific exclusion applies. Many carriers limit coverage to work performed only on behalf of the insured firm or its predecessor firm(s).
WATCH VIDEO
NON-ATTORNEY COVERAGE
Provides coverage for paralegals and others who work in your office. Certain exclusions apply.
FORMER PARTNERS, ASSOCIATES AND NON-ATTORNEY COVERAGE
Former partners, associates and non-attorneys are covered for acts or omissions that occurred on behalf of the firm during their employment.
INNOCENT INSURED COVERAGE
Provides coverage to attorneys for acts (other than defalcation) or omissions of other attorneys who are Insureds under their policy when the "innocent insured" had no prior knowledge, did not participate or acquiesce in the act or omission, and timely reports upon first knowledge.
DEFENSE FOR INTENTIONAL ACTS
Provides a civil defense to both the innocent insured and the accused insured for alleged intentional acts (other than defalcation of money or property), provided the act or omission arose while acting in a professional capacity providing legal services.
AUTOMATIC 60-DAY COVERAGE
New attorneys added to your firm are automatically covered for 60 days for legal services rendered on behalf of the policyholder firm.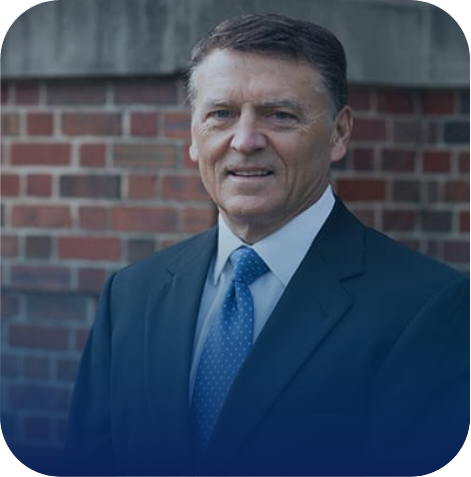 MARK BOCKIUS
Regional Sales Manager, Rural Missouri, Agency, Operations
JEFF THOMPSON
Regional Sales Manager, Greater St. Louis, Agency